Summer is just around the corner and in Headliners Unisex Salon Color Specialist we know how excited you all are. You have you bikini bod all ready for the beach, you're looking forward to buying that perfect pair of summer shoes, the perfect outfit and it will be all about sun, beach, holidays and happiness. But what about your hair? The heat, humidity and dry wind can make your hair frizzy, weathered and dehydrated. Therefore, it needs some special care during this season to keep it looking shiny, smooth and sexy. Here are some awesome tips that will get your gorgeous hair summer-ready.
1. Cut and Ditch the Damage
Before summer starts, get a haircut- even if it's just to trim your ends.  While split ends might go unnoticed during a dreary winter, the summer sun will shine some light- literally- on damaged hair.  Plus, you'll feel fresh, clean, and ready to take on the world!
2. New Hair Products
Cold weather requires you to use heavy conditioners and shampoos when it comes to dry hair. But, summer can make your scalp greasy making you switch to lighter conditioners. This is because products that work during winter may not work during summer!
3. Invest in Hair Products
If your freshy-straightened hair becomes an afro after just a few minutes in the humidity, you're going to need a product that can tame those curls. That's why we always recommend the importance of using good hair products. In Headliners unisex Salon we offer the best hair products on the market as loreal, moroccanoil and many more plenty of effective and affordable anti-frizz creams, sprays, and serums that will help you to Get Gorgeous Hair Summer-Ready.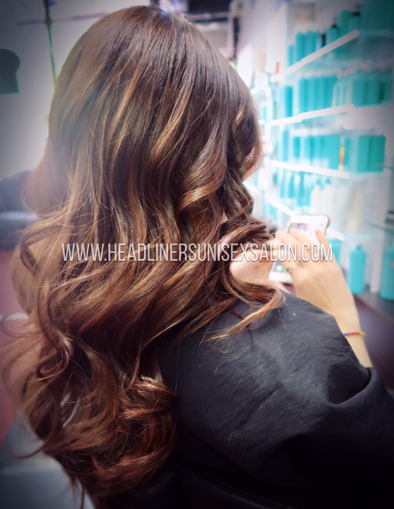 4. Brighten Up
If you've always wanted to get your hair highlighted, summer is the season to bite the bullet!  Make sure you ask your Headliners' Hair stylist for natural-looking color, and ask for several colors- not just one.  Bleach blonde highlights don't look good on many people; try a combination of caramels, gold, pink, and all about hair color season, in Headliners Unisex Salon Color Specialist we recommend to choose a color that blends well with your personality, your skin tone, style, facial features and define you.    
5. Hair-Style for Summer
Soft, beachy waves and country-chic braids are big this season, as they're effortless but elegant.  In Headliners we are experts hairstylists ready to see which works for you!
6. Mask it
Hair masks are an awesome way to nourish and moisturize your hair as well as to help you to deal with common hair issues like frizz, dryness and damage and much more. In Headliners Unisex Salon we are aware of it and we have a complete Hair Conditioners menu with all the best products to find the right mask for your hair type!
Summer is time of fun in the sun, but you don't want your hair to pay the price. Follow the above tips to get your best head of hair this summer! Go on and treat your mane to some extra love while you treat yourself to the summer sun.